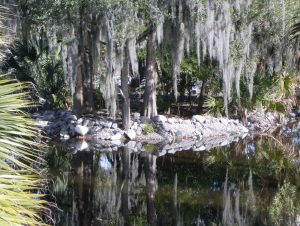 There is a stage already set.  When you walk into the theatre you see all the props in place.  You stand among the empty seats and wonder what this production is all about.  You quickly learn it's either all about you or all about God.
The empty seats are filled with people who do not yet know Christ as their Savior.  The stage is filled with all sorts of props that look like debris where a tornado went through. 
To the left is a broken tree of failed relationships and efforts.  To the right is a mud slide of things going well but suddenly got washed away.  In the center is a deep dark well of despair where there is no end to that particular problem.  The actor is you.  The script is the Bible.  The director is Jesus Christ.
How the production ends is determined by how well you read the script and follow the instructions of the Director.  Will your audience see a lot of cool human efforts that result in temporary applause or will your audience see the love of Jesus in all things that bring glory to God?
With God all things are possible.  Even when everything you do to try to salvage a relationship fails God comforts and understands.  He leads you to new people and new opportunities that help you to grow.  Many times current efforts or people in your life do not move you ahead or promote a stronger relationship with God.
There are times you are on top of the world.  Everything is working out in all aspects of your life until suddenly something important to blows up.  This creates an avalanche of events of ruin.  All the effort you placed into making these things the way you wanted them to be are all rubbish which could be the very reason everything collapsed.  Human effort is no comparison to what God can do in your life.  If the foundation of your work is not based on the love of Jesus Christ you can expect these type things to happen, especially when God is first in your heart.
These deep wells of despair of being told there is no way to salvage your job, your health or the departing of a loved one are devastating.  You see no way out or around the grief and you don't know what to do.  These are the times you wait.  You walk moment by moment.  Your faith is being refined and you cling to God even more. 
When you do not know what to do next consult your script, the Bible.  When you do not know how to implement a certain attitude during these obstacles consult your Director, God,  through prayer.  When life is too difficult to keep going ask your Director, God, to allow you to shadow Him as He acts out your role for you and you mimic Him.
Together God and you will get through this performance.  Between you and God, the one of you getting the staring role and all the bows and curtain calls depends on how many of these situations you allow Him to handle on your behalf.
Joshua 1:8  New Living Translation
Study this Book of Instruction continually. Meditate on it day and night so you will be sure to obey everything written in it.  Only then will you prosper and succeed in all you do.