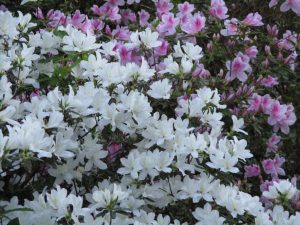 We see a beautiful array of flowers.  They are displayed with much splendor.  The various colors, shapes and sizes create a gorgeous scene that is incredible.  The pleasant aromas become sought after scents for cologne bottles.  It isn't long before the leaves take over and begin their work.  However we overlook the most important thing which is the growing process beneath the flowers.
God continually looks beneath the end result at the things He can channel toward His purpose.  A full grown flower or plant unfortunately has maximized its usefulness.
It's the same with us.  There are certain people who are poised with beauty and talent.  These people are sought after by others to be awarded jobs, gigs and numerous other opportunities while others are still in the growing process and never get noticed.  While it's easy to become discouraged it's important to know that we are the ones God reaches to.
We are growing, we can be channeled and we can be groomed for God's purpose.  God sees all things whereas people many times see only the end results.  Growing in grace takes effort.  We study God's ways and listen for His still voice.  Just as a flower has to push through much dirt and harsh weather we do the same.  God takes us step by step through things in our lives we must give up or grow past to better see His light.  The discouragements of people not understanding our growing pains is the hardest thing to overcome but it makes us stronger.  It helps us to become more useful to God.  It prepares us to assist others with a deeper understanding of what they face.  Most of all it grows wisdom which honors God.
Proverbs 1:1-5  New Living Translation
These are the proverbs of Solomon, David's son, king of Israel. Their purpose is to teach people wisdom and discipline, to help them understand the insights of the wise. Their purpose is to teach people to live disciplined and successful lives, to help them do what is right, just, and fair. These proverbs will give insight to the simple, knowledge and discernment to the young. Let the wise listen to these proverbs and become even wiser.   Let those with understanding receive guidance.