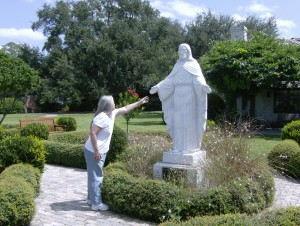 A baby's first steps are exciting.  A dad bends down and holds out his loving hands, barely far enough where the  baby has to take a step but close enough to catch him if he trips up.  As the precious child takes one step then another, his full concentration is on the two loving hands reached out to him.  With the child's full concentration on those two hands he pays no attention to the squeaky toys he steps on or the wheeled pull toy he almost trips over.  One shaky step at a time and much encouragement from dad he finally makes it into his dad's arms.  There is much celebration, photos, hugs and rejoicing.
What if the child had of tripped?  No problem.  Dad stands him back up and reaches out his hands once again. 
There are no limits on how many times we can try.  There is no such word as failure for one who doesn't quit.  God's loving hands are waiting every time as we walk over, under, around and through obstacles into His grace.  With full focus on the loving hands of our Lord obstacles are only an inconvenience.  It's when we look at the obstacles that the inconveniences become road blocks.  God understands when obstacles lure our focus and He will stand us back up where we can walk again toward His grace.
Matthew 14:28-31
 "Lord, if it's you," Peter replied, "tell me to come to you on the water."
 "Come," He said.
Then Peter got down out of the boat, walked on the water and came toward Jesus.  But when he saw the wind, he was afraid and, beginning to sink, cried out, "Lord, save me!"
 Immediately Jesus reached out His hand and caught him. "You of little faith," He said, "why did you doubt?"