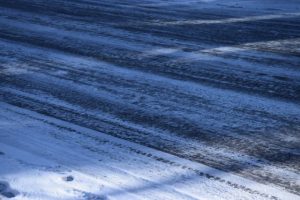 Many people refer to life as a school of hard knocks where we learn not to do certain things.  Others say where there is no pain there is no gain.  As cruel as this sounds, each knock or pain makes us a little stronger and gives the go ahead to take the next step.
What if we see life from the same perspective but a little differently? 
No matter how well we know a road, when it snows and we cannot see the road.  We slow down and proceed with caution.  If we go too fast we are surely to slip off or slide back.  If we are not observant we will miss those patches of black ice and fall flat on our faces.  If we don't take time away from the snow we will have freezing ailments to deal with later.
We can never be too sure of anything in life.  Just as sure as we think we know everything about a certain situation the fall of pride will overtake us.  Jesus said His yoke is easy and His burden is light.
The key to a successful walk in life is to go at God's pace, in His timing and His way.  As we endure the hardships that come our way He is right there with us to lighten our load.
The times we slip and fall flat on our faces from grief over losing a loved one, He is holding our hand and showing us the beauty that lies ahead.  He assures us our loved ones are already there.  Other times when we slide off track from doing things our own way and in our timing He is there to get us back on track.  God will allow us to see that our way and timing do not produce the best results.  There are other times we suffer setbacks because we stay too long in a phase of life that is too comfortable.  While others are progressing we sit in our comfort zones which later result in an inability to be used by God in tougher situations.
Obstacles will happen but as we remain focused on God's ways and His timing He will see to it we keep growing.  God rewards obedience and He encourages us each step of the way.
Psalm 23  King James Version
The Lord is my shepherd; I shall not want. He maketh me to lie down in green pastures: He leadeth me beside the still waters.  He restoreth my soul: He leadeth me in the paths of righteousness for His name's sake.
Yea, though I walk through the valley of the shadow of death, I will fear no evil: for Thou art with me; Thy rod and Thy staff they comfort me.  Thou preparest a table before me in the presence of mine enemies: Thou anointest my head with oil; my cup runneth over.
Surely goodness and mercy shall follow me all the days of my life: and I will dwell in the house of the Lord for ever.