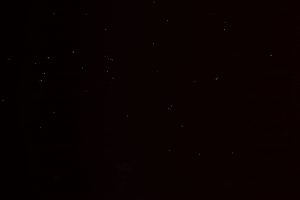 THINGS THAT GO BUMP IN THE NIGHT
Many children and even adults need a night light because of a fear of the dark.  No matter how well we know our house and all the little noises somehow darkness amplifies everything.  Over the months we get so used to certain sounds that we barely notice them.  The refrigerator freezer drops ice or the wood settles when it gets cooler.  However at night each of these familiar sounds startles us to the point we cannot go to sleep.
How do we overcome such fear?  God does not place in us a spirit of fear but instead a spirit of love.  He gives us peace yet somehow the tension mounts.
Jesus is light and it's during the dark hours of the night we find something that is lit up.  We place our focus on the moonlight coming in the window or a neighbor's lamp post.  We think about heavenly things where the love of Jesus lights up all of heaven.
In the photograph above it appears to be total darkness but if we click to broaden the photograph we can see many stars.  Each star has been created by the loving hands of God.  Overcoming darkness always takes light.  During the times of clouds and darkness we can trust God that there is light somewhere because His light never goes out.  As we discipline ourselves to focus on God and His love our minds can rest.  He takes care of all things.
2 Timothy 1:7  New Living Translation
For God has not given us a spirit of fear and timidity, but of power, love, and self-discipline.
$$$$$$$$$$$$$$$