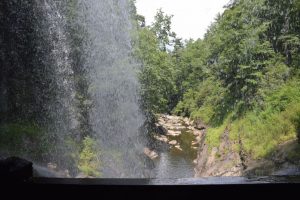 Our heart's desires are important to us and it's hard sometimes to wait while God works things out.  We become glued to a situation, material thing or even a person and our thought pattern soon evolves into ways to manipulate things the way we want them.  Unfortunately our manipulation techniques bind our heart's desire into a specific outcome therefore binding the support of heaven toward us.
Suppose as a teenager or young adult we are attracted to a specific person who doesn't notice us.  We manipulate our behavior and change our schedule to force ourselves into the pathway of this certain individual.  Even if our techniques work and we achieve our goal of dating or marrying this certain person we succeed only in making this person into a material thing.  God did not put us together but instead our togetherness is a result of mind games.  It is a bondage we created between us and that person and heaven was bound from supporting us.  We may spend a lifetime in marriage to such a bondage.  While we may feel in control, this control is actually controlling us.
Suppose we experience the same situation with the support of heaven.  We are interested in a particular person who doesn't notice us.  We pray and ask God to allow us to meet and know each other then get busy with our own talents and callings in life.  We have loosed this person into God's hands and heaven is loosed onto our petition in our favor.  Many times our answer may surprise us.  God could allow us to lose interest in that person or see to it we learn about a habit or other things that move us toward one we desire more.
There are no limitations when we place our trust in God to work out relationships, situations or even material things.  The Bible is specific when It tells us to seek first the kingdom of God and all else will be added.  When we place our trust in God for all things we can expect that He will loosen heaven toward us.
Matthew 18:18  New American Standard Bible
Truly I say to you, whatever you bind on earth shall have been bound in heaven; and whatever you loose on earth ]shall have been loosed in heaven.