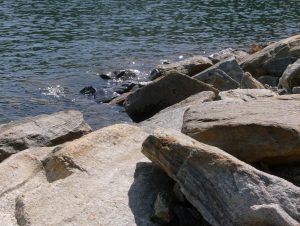 Storms come that create floods.  Fires happen that destroy everything in its path.  Landslides occasionally occur covering the land below.  All these things happen when we least expect it.  Weather patterns change and the earth quakes shaking up everything around us and we are left surprised almost every time.  In all this God is in full control.
He picks up the empty pieces and restores people to a peaceful life.  He makes His face available for all to see.  Some question God while others automatically pray.  No matter what comes our way God is available and He has not changed.  He is the same today as yesterday and will be the same in the future.
In our personal lives we are hit with an unexpected flood of small hardships.  It's one thing after another with no end in sight.  There are times we experience loss of personal possessions through destruction or theft.  Other times we are hit with the loss of a job or a loved one which shakes our very foundation of faith yet God is available at all times.
There is nothing exciting about hardships and all seem to come at a time when we least expect them yet God never changes.
As we cling to God in all things we begin to learn the way He operates.  He takes care of us in all things until the day He opens heaven to us.  If we continue to cling to our unchanging God He lets us know we are never alone.  Even if we lose all possessions God has not changed.  As we walk through grief God's loving arm has not let go of us.  When things are uncertain and falling apart God still has hold of our hand.  He never promises an easy life but a certain one and He is present with His help at all times.
Psalm 46:1-3 New Living Translation (NLT)
God is our refuge and strength, always ready to help in times of trouble. 
So we will not fear when earthquakes come and the mountains crumble into the sea. 
Let the oceans roar and foam. Let the mountains tremble as the waters surge!