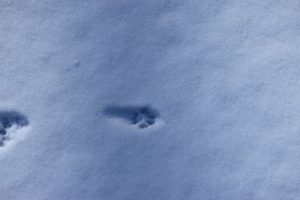 When the snow is melted will anyone remember your footprint was once there?  When you walk through seasons of life, will the people you encounter remember you?  If people remember you, what will they remember about you?
Do your actions encourage others to want to be their best?  Do your words of comfort point to Christ?  Do you follow through on what you say you will do?  Do you wear a smile and accept people just the way they are?  Do you gently point others to a pathway that leads them away from a destructive lifestyle?
Is there enough evidence to convict you of belonging to Jesus Christ? 
Even though people may not remember your name or anything about you, they will remember the comfort and positive feeling they received in your presence.
1 Peter 2:12  New Living Translation
Be careful to live properly among your unbelieving neighbors. Then even if they accuse you of doing wrong, they will see your honorable behavior, and they will give honor to God when he judges the world.