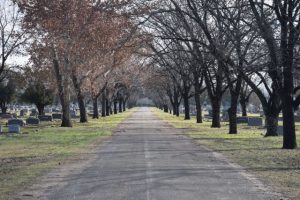 There is great sadness when a loved one is received into heaven and we are without that person.  Many will tell us to hang on to fond memories which comfort some people for the moment while others grieve even more.  Jesus Christ has made all things possible since He overcame even death.
Through Jesus Christ is assurance that the fondest memories become something that lies ahead for an eternity. 
1 Thessalonians 4:13-18  New Living Translation
And now, dear brothers and sisters, we want you to know what will happen to the believers who have died so you will not grieve like people who have no hope.  For since we believe that Jesus died and was raised to life again, we also believe that when Jesus returns, God will bring back with Him the believers who have died.  We tell you this directly from the Lord:  We who are still living when the Lord returns will not meet Him ahead of those who have died.  For the Lord Himself will come down from heaven with a commanding shout, with the voice of the archangel, and with the trumpet call of God.  First, the believers who have died will rise from their graves. Then, together with them, we who are still alive and remain on the earth will be caught up in the clouds to meet the Lord in the air.  Then we will be with the Lord forever.  So encourage each other with these words.