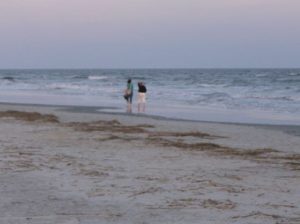 Most of us have walked along the sand shore of a beach.  The waters come only so far and no further.  Each wave rises up only to be calmed before it reaches the limitations God has placed.  Sometimes high tide allow the waters to come further but even then, the waves are stilled at the limit God placed.
In our lives come wave after wave of situations.  Most go unnoticed because certain situations are a day to day occurrence to us.  Other situations shake our focus onto the things taking place around us yet even those waves are calmed as they reach the limit God has placed.
No matter what we walk through in life we lift up to Him the truth and honesty of our feelings, disappointments and despair and He will return righteousness from His heaven upon us.  His protection clasps around us like cupped hands.  His lovingkindness endures forever.
Psalm 89:8-9  New American Standard Bible
O Lord God of hosts, who is like You, O mighty Lord? Your faithfulness also surrounds You.  You rule the swelling of the sea; When its waves rise, You still them.