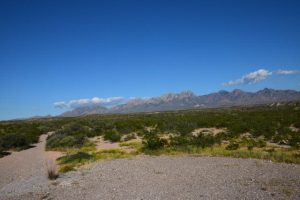 Many of us have a beautiful flower or vegetable garden but somehow weeds grow among our plants.  If we are not careful we can ruin our whole garden.  While we show patience toward the weeds by not pulling them out, it's only for the purpose of not harming our plants.  We are also displaying mercy toward our valued plants by keeping these weeds under control.
It's the same way with God's presence in our lives.  He loves each of us very much and gives all people a chance to know Him.  While He displays His perfect patience toward ones who are out to destroy us He engulfs us with His perfect mercy.  His patience toward ones with wrong motives allows them extra time to get things turned around.  His mercy toward us protects us during the hard times they cause.  His protection toward us is a demonstration for others to see and for them to know that only Christ can protect. 
While it seems that some people get by day after day year after year with destruction God still carefully monitors the big picture with His mercy toward us.  The truth is nobody gets by with anything.  While we are corrected quickly out of love, others do not have the divine privilege of such corrections.  These people refuse the loving correction of our divine Lord leaving them to fin for themselves.  Which is better?  Would we prefer to be corrected to get back on the right track quickly or left with no protection and not much sense of right from wrong?  These people may get by for a long time but once God declares the end of our time on earth, it's all over.
Romans 9:22-23  New Living Translation
In the same way, even though God has the right to show His anger and His power, He is very patient with those on whom His anger falls, who are destined for destruction.  He does this to make the riches of His glory shine even brighter on those to whom He shows mercy, who were prepared in advance for glory.