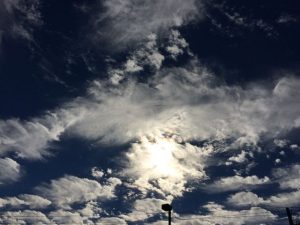 What if you had a chance to be there when God created the earth.  There was a time when there was nothing at all.  Imagine witnessing that.  Suddenly things lit up for a while and got dark again.  There was a time when oceans were there but no land.  Imagine that.  Water everywhere but no life in it.  The water is big.  The water is cool yet it's still and lifeless.
Surely there is God Who is causing these things.
Suddenly solid ground emerges and later life of all sorts.  Then from the dust of the earth a human man emerges.
When we look at life this way, it becomes easier to understand that life's problems are easy for God to handle.  Most of what we deal with today are are people problems.  People do not get along.  People disagree.  People do mean things.  However God takes care of even these issues if we call upon Him.
When we take time to ponder the greatness of God we can be assured that the things we encounter today are under God's control.  God is love and He sees to it all things work out for the good of those who love Him.
Jeremiah 33:2-3  New Living Translation
This is what the Lord says—the Lord who made the earth, who formed and established it, whose name is the Lord:   Ask Me and I will tell you remarkable secrets you do not know about things to come.