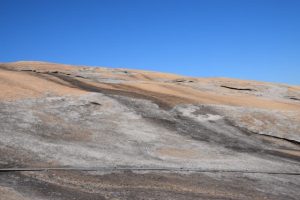 When God seems so far away and when prayers seem to bounce off the clouds back to us He is still here.  When we are not hearing anything it could very well be He is listening.
Have you ever wanted to talk to a friend yet the friend did all the talking.  You didn't get to speak other than to introduce the topic and the friend took it from there.  More than an hour later you still listened while the friend kept gabbing away.  When you and your friend parted the emptiness was even worse than before because you didn't get to speak. 
When the Lamb is silent He is not ignoring you, He is giving you an opportunity to speak for as long as you need.  While you want to hear from Him and see results of your prayers He provides enough time for you to completely empty your heart.  When the answer comes it will be one that is genuine from His heart to yours. 
He never ignores His children.  He knows when it's time for you to clear your heart of all that concerns you.  He is still when He is listening.
Psalm 116:1-2   Living Bible
I love the Lord because He hears my prayers and answers them.  Because He bends down and listens, I will pray as long as I breathe!