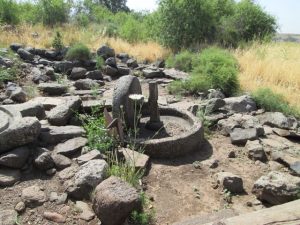 We know we have done things the way God has instructed yet the things around us are falling apart.  Much time has been spent in prayer for certain people, situations and things yet the opposite happens.  In our minds if only a certain person can be our new boss or we could be the one who gets the job things would work smoothly for us.  Instead the new boss is a tyrant and we are picked over for the job we wanted. 
The Bible speaks often telling us not to fear.  God has everything in control.  When we consider the finest flour, sweetest fragrance or prime olive oil all three have to be crushed, ground, pressed or shaken in order to show the best.  Sometimes God has to shake everything to the light that lies hidden so that all people can see the things God needs to correct.  It's possible that He is shaking the things around us so that only His light will be left shining for all to see.
As we continue obeying what God tells us, we can be sure that He will take all brokenness to build His sweetest fragrances.  Our obedience is never wasted.  In fact, seeing the disappointment and brokenness around us is a sure sign God is at work.  If God is working those things out it is for certain He will protect us along the way.  God's light will always shine and when our trust is in Him we can never go wrong.
1 Corinthians 15:58 New American Standard Bible
Therefore, my beloved brethren, be steadfast, immovable, always abounding in the work of the Lord, knowing that your toil is not in vain in the Lord.