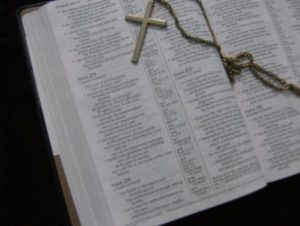 It happens to us all at some time or another.  Everywhere we turn the answer is "no."  Blessings that come in the form of an answer to prayer are bestowed on our friends and not us.  Promotions automatically happen to coworkers who are always on break while we work hard and get none.  Nationally there are rules that excuse what is wrong while what is right is either barely tolerated or overlooked totally.  These things usually happen for two reasons.
God has closed the door to us for the time being because He is preparing a feast for us.  The second reason is the devil is challenging God and obstacles are thrown in our path to cause discouragement.  Other reasons could include our maturity v/s the blessings being larger than us or we are being protected from the consequences of certain choices.  As we trust in God for all things, the reasons blessings are delayed are in God's hand.  He will choose the right blessings at the right time where all focus is in Him.  Being part of blessings ordered by God are worth the wait.
As for people, certain ones delight in our demise just because we trust God.  While it seems they prosper, their prosperity is being poised for their own demise.  We never have to do a thing to bring about vengeance because it all belongs to God.  Placing our trust in Him and keeping true to Him will assure He will serve proper vengeances to these people.  He will see to it no harm comes to us.  It may seem our enemies have the upper hand but they have not encountered God yet.  We can rest knowing God has all things in His control.
But in that coming day no weapon turned against you will succeed. You will silence every voice raised up to accuse you. These benefits are enjoyed by the servants of the Lord; their vindication will come from me. I, the Lord, have spoken!