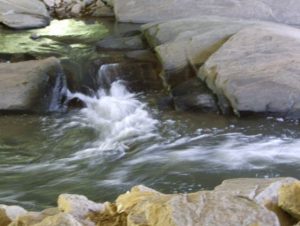 When we look around us we see God's handiwork.  This is especially true when we take a stroll outdoors.  We see the trees and feel the gentle breeze letting us know He is beside us in a peaceful way.  We look to the sky and know God and His angels watch over us at all times.  During times of clouds and rain the thunder displays the power of His mighty voice that come with bolts of lightning. 
When we are still and when we search for God, He will display Himself in ways we understand.  During uncertainties in life when there are no answers we call upon our Lord to open heaven's gates to allow His mighty voice to speak over our situations.
There is power in the word of God.  Their is might in His voice.  There is no situation too big for Him and there is also no situation too small where it is beneath Him to care.
Psalm 29:3-9  New Living Translation
The voice of the Lord echoes above the sea.  The God of glory thunders.  The Lord thunders over the mighty sea.  The voice of the Lord is powerful;  the voice of the Lord is majestic.  The voice of the Lord splits the mighty cedars; the Lord shatters the cedars of Lebanon. He makes Lebanon's mountains skip like a calf;  He makes Mount Hermon leap like a young wild ox. The voice of the Lord strikes with bolts of lightning. The voice of the Lord makes the barren wilderness quake;  the Lord shakes the wilderness of Kadesh. The voice of the Lord twists mighty oaks and strips the forests bare. In His Temple everyone shouts, "Glory!"